Did you notice the new Clubhouse App making waves in the marketing stratosphere at the end of last month? If you're a marketeer or business owner who hasn't heard of this new and unique, live audio-based networking tool, then we've got the low-down for you.
What is the Clubhouse App?
Clubhouse App is an audio platform where you can listen to and engage with live conversations taking place. These conversations happen within certain rooms on the app that will enable you to meet others from your industry, hold discussions and network with one another.
But it's not open to just anyone. Membership of this exclusive members club is by invite only and that ensures only highly useful, professional and relevant audio conversations take place.
Unlike most social media platforms, you won't be deluged with endless waves of content you just don't want or need. Instead, you can choose to follow and listen to people you really want to network, engage and share your ideas with and they can follow you back.
Once you've got the hang of which conversations are going on in which rooms and those you want to join, it can prove a great tool for marketers to network with one another, expand knowledge and share ideas. It's no wonder that entrepreneurs and business owners are already making the most of it.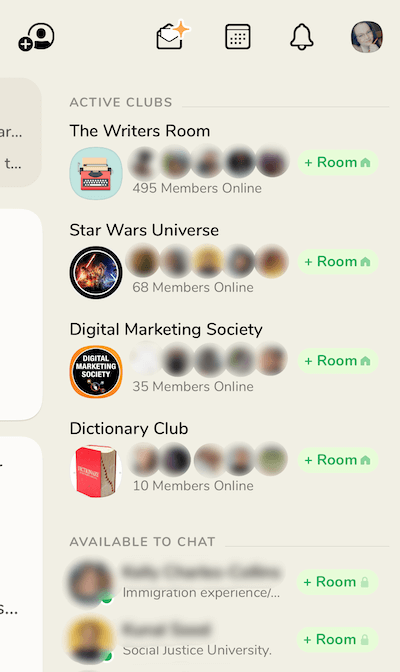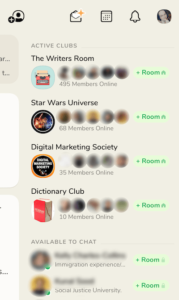 How the Clubhouse App works
Currently, the Clubhouse App is in beta and, as we mentioned, is invite-only, although it may, in time, go public. As a new user, you are given one invite to share once you join – so, while you can't bring a ton of your contacts on board, it's the chance to meet and network with other business professionals who may go on to follow your business on other channels where you already have a large community. Further invites are given out based on your activity on the app and the activity of those you invite – so choose wisely!
In a familiar way, your profile will be made up of your name, username, bio and profile picture.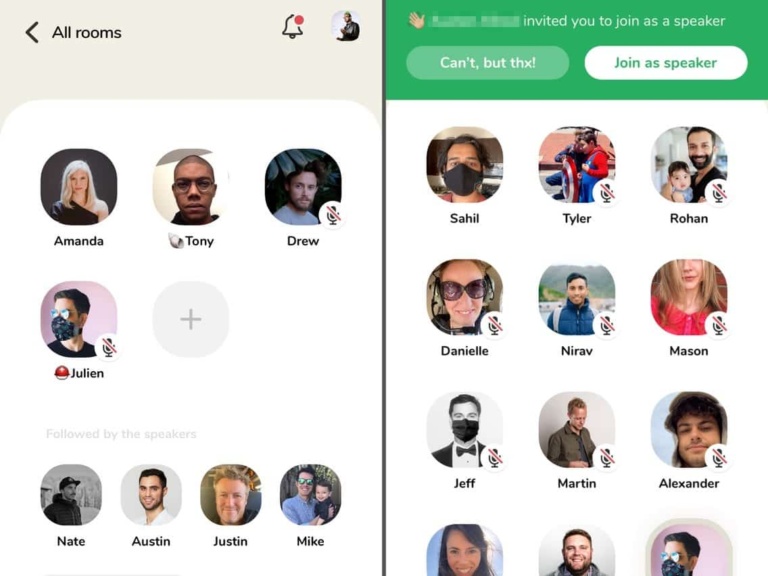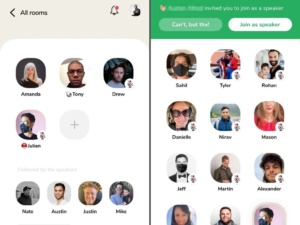 The search function is currently based on your username and content within your bio, so ensure you make the most of it with as much useful information as possible to ensure you attract the right people and are seen in the right places. Check out this article by MobileMonkey for 7 Steps to Jumpstart Your Following on Clubhouse.
This bio info might include details of your business expertise, which should give an indicator of how well you might be able to contribute to a conversation.
The first three lines (roughly 125 characters) are available to preview while in the chat rooms, so make sure the most important information that you want to get across comes first. Don't waste valuable characters with fluffy words you don't need. You can also link to your Instagram & Twitter profiles.
New users can find people to follow using the keyword search function and those users wear a party hat for their first seven days on the app to indicate to other members that they are just getting started.
There are three types of 'Rooms' inside the Clubhouse App that you can join – Open Rooms where any members can listen in, Social Rooms with people you follow and Closed Rooms which only allow selected people can join.
Remember that, unlike social media channels, the rooms are live audio-only, something which is rarely used elsewhere. There is no chat functionality and no replay – which means you have to be in the right place at the right time to make the most of it.
Once you have made your way along the app's hallway and arrived at a room you wish to enter, you will find it is divided into different areas:
The speakers' stage which is made up of the room owner, moderators who organise the way the room is run and speakers
The audience, which is made up of two further areas, those followed by speakers at the front and then the others in the room
Audience members can be invited onto the stage by one of the room's moderators. They can do this by raising a hand and when on stage they can mute or unmute their microphone to talk. It's customary to keep your microphone on mute while others are speaking to minimise background noise. When you leave a room, you'll return to the same place – the stage, or the audience – when you come back.
Getting involved in more conversations on the stage, of course, means more people will check out your profile, follow you and connect with you further, so it's definitely worth not being shy, although a good tip is to make sure you've listened in full to the flow of the conversation before you offer your input.
The good bits about the Clubhouse App
Speak directly to people you want to connect with when you can't on other social platforms because it's hard to be seen when their audiences are too big for you to stand out.
It's an exclusive club to be a part of at the moment, so everyone will be keen to hear what's going on in your room when you set one up.
As it's audio-only and not video, you don't need to worry about how you look, only how valuable that what you have to say is.
There's the opportunity to create a room and have a conversation about anything. Think podcasts and industry webinars to ensure you get the attention of other professionals within your industry.
You can link to some of your other social media channels
A downside of the Clubhouse App is that it's all live so there's no way to speed up the audio or skip forward to the bits you want to hear, which can be a little time-consuming. If you're speaking you only get the one chance to get your point across, too. Once you've said your piece, you've said it and there's no doing over. And there's no way to replay what you just heard, so remember to pay attention!
Additionally, you can only change your username and name once, so remember to give it a lot of thought before creating your profile.
using the Clubhouse App for B2B MARKETING
Let's face it, audio networking such as this is a new and fresh way to do things especially with us all being so used to business meetings via Zoom for the past few months. It's your voice speaking live and meeting others as if you were in the same room together. And in this day and age, where face to face networking is nigh on impossible, it's a great way to have your voice heard, without the need to worry about physical appearance or social distancing.
The Clubhouse App can even be used to increase your income, thanks to the opportunity to create sponsored rooms and brand partnerships. By creating content which has come from notes you have taken in the room, it also gives you another way to get your voice out there through blogs and articles posted on other marketing channels.
We feel Clubhouse could be a really interesting platform for B2B marketeers from networking to professional development and running industry-specific webinars/chats – we look forward to seeing how this new platform grows. Watch this space!
*Image credit: Social Media Examiner