2022 is a special year for us at Marketscan as it marks our 40th year in business. We're hugely proud of everything that we've achieved, as not many businesses in our industry can say they have as much experience as we do!


We're looking back over some of Marketscan's major milestones that have shaped the business as it is today and looking forward to celebrating our 40th birthday with a whole host of activities over the next 12 months, one of which is enjoying this playlist from our founding year.
So where did it all begin? 1982 was a busy year that saw the birth of our future king, the famous ship the Mary Rose brought to the surface in Portsmouth, and £31,400 could buy you a house in London. 1982 was also the year that Marketscan was established, with the belief that there was likely to be growth in the use of direct mail for B2B marketing, and the appearance of the first desktop computer could make an impact on the traditional methods of data selection and list production. To lift the company's first desktop computer required two people and it had a 10Mb hard drive, 64k of RAM and cost £4730!
Marketscan's early clients received their postal lists on self-adhesive labels and their telephone data on A4 listing paper. Not long after, we pioneered the supply of B2B data lists on disk which enabled clients to be more creative with their direct mailing pieces. This seems like a world away from how we do things now.
As technology continued to advance, database software was chosen for its ability to handle thousands rather than hundreds of records and to make more detailed and intricate data selections. 1994 was a watershed moment in the industry when the major data owners started to license bulk B2B data.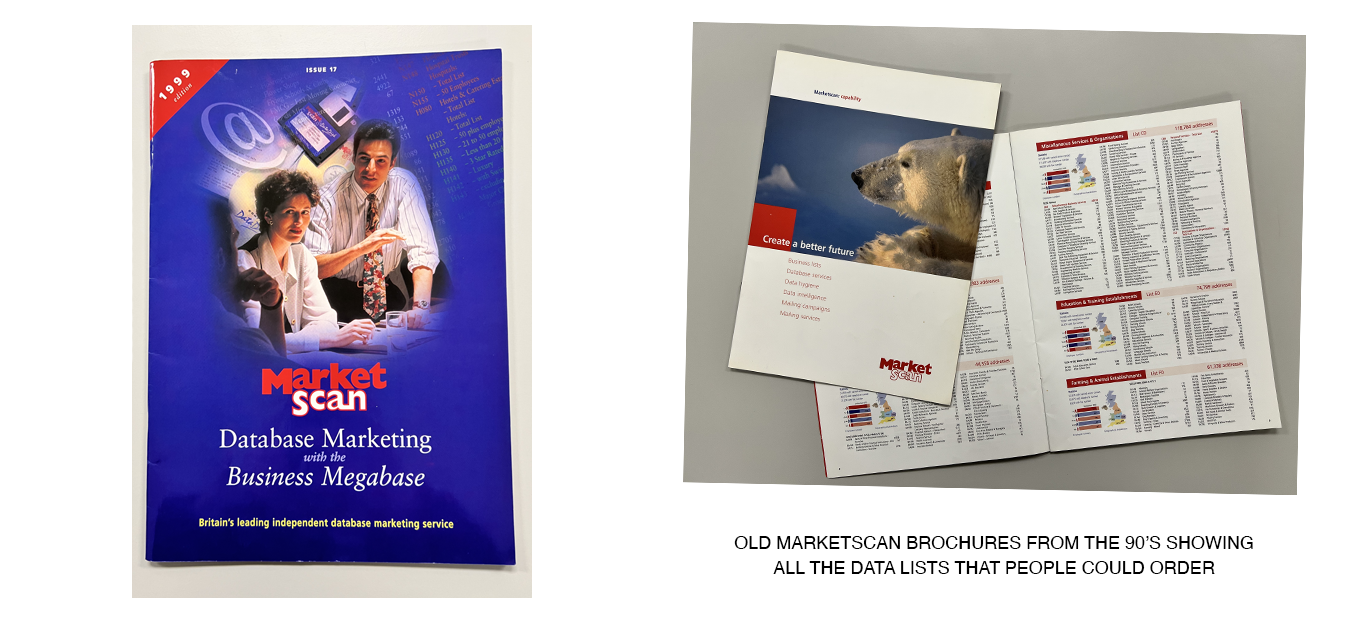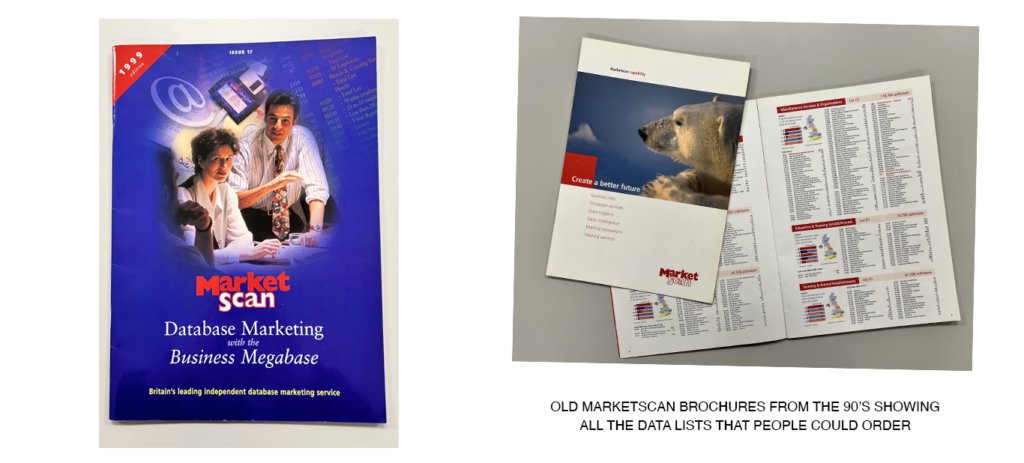 In a matter of months, the concept of manually updating a major database from a keyboard became obsolete. Entire databases of over a million addresses together with regular updates were available…for a significant licence fee! This change shook up the industry, with some competitors falling off the map, but with our first data license contracts secured, Marketscan had built a competitive edge.
For the next decade, we built on our experience of providing B2B postal addresses and telephone data in a variety of formats and performing database enhancement programmes. We were able to provide a new level of detail in the data selections available and the speed of response that were hitherto not possible by the cumbersome mainframe computers used by our competitors.
1996 saw us move to our offices in Chichester that we still call home today. Two years later, the arrival of email saw customers receiving their data at lightning speed meaning we were no longer reliant on shipping disks by courier.
The Millennium was another pivotal year in our history. Due to the nature of the license agreements, our internal processes needed to change. The intention was to create a marketing database from more than a single data source to maintain a competitive advantage over major players with their own databases. This was achieved and 'The Marketscan MegabaseTM, our unique B2B database, was born.
With more and more B2B data making its way into people's databases, we introduced our database cleansing and analysis services to further help our clients' sales and marketing campaigns reach the right prospects. These services are even more valuable today with the arrival of regulations such as UK GDPR, Privacy and Electronic Communications Regulation and the Telephone Preference Service registers .
2005 was another major year for us as ListBuilder (now referred to as Marketscan Online) – a self-service data licensing platform – was launched. Marketscan Online fast established itself as a powerful marketing tool, allowing customers to create and download their own selections based on criteria they chose. This not only speeded up the delivery of B2B data even further but also offered marketing managers a valuable free tool to help them understand the scope of potential prospects and opportunities in their target markets. The following year we were awarded the UK Mail Database Management award, sponsored by Royal Mail.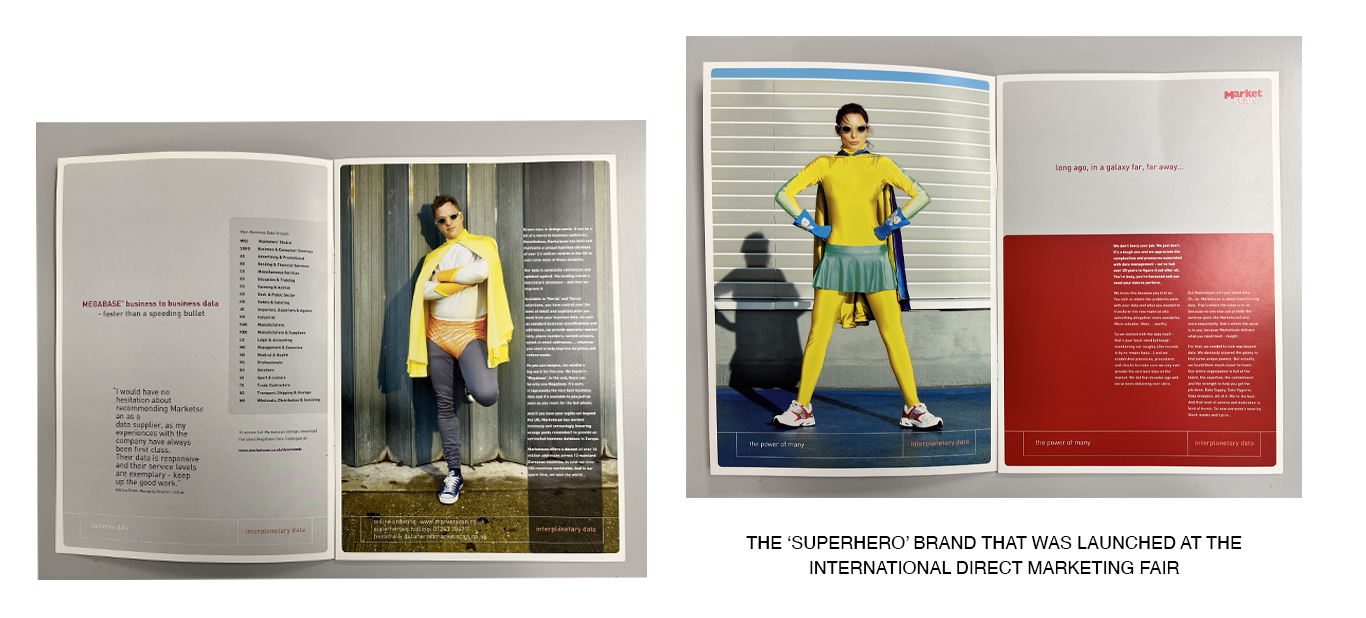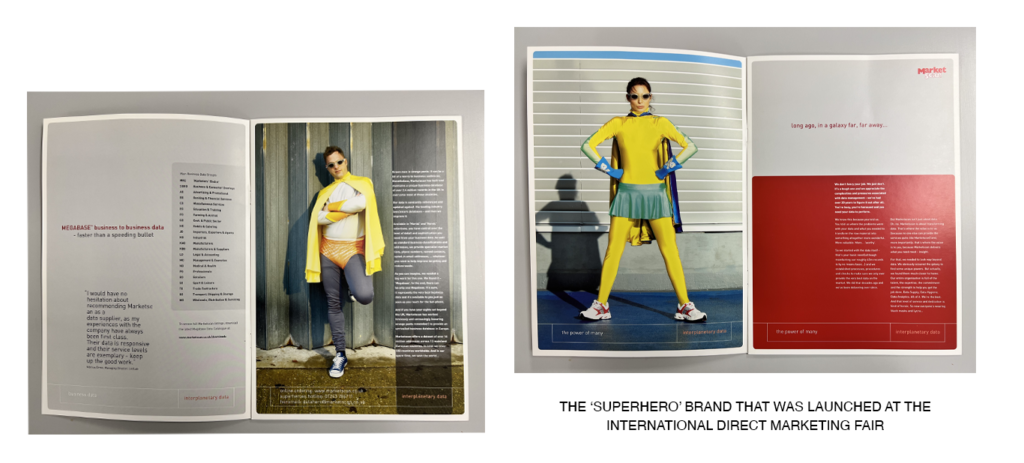 Since then, we have continued to win awards for our work and enhance our products and services, whilst still retaining our values of providing an efficient, valuable and friendly service. MegabaseTM continues to be fed by the UK's top 5 B2B data sources, to offer a breadth and depth of B2B data that is second to none.
2021 was a year that many of us won't forget in a hurry, and for us, it was the year that we launched the email marketing platform, Marketscan Edge . This email marketing platform is unlike many others in that it offers users the ability to send campaigns to third party data – something that many marketing platforms don't allow. We also launched the Marketscan VIP Reseller Programme to support our reseller clients. We've already seen great success with both of these launches, and we know that there is even more to come.
So, what now and where next? 2022 is going to be a great year of celebration, and we've already begun with the unveiling of our special edition anniversary logo on the website, in our email signature and on our social channels. Be sure to keep a close eye on your inbox for our client newsletter, but you can expect to see special offers, quizzes, charity events, awards, PLUS a couple of extra-special opportunities that are not to be missed.
We've achieved a great deal in these last 40 years and a huge part of that is down to our fantastic team . Some have been with us for more years than they might like to let on!  Our mission has been and still is to provide the highest quality B2B data solutions to help fuel our clients' growth, delivered by a supportive and knowledgeable team you can trust. Here's to the next 40 years!